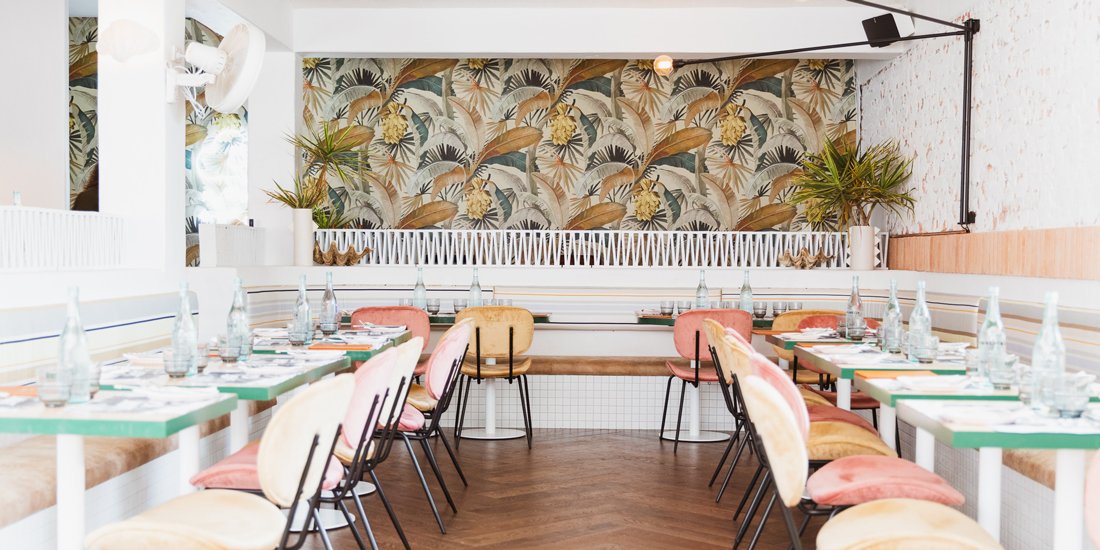 I don't know about you but when I travel I want to spoil myself with the best fare around. Byron has a pile of new restaurants and a buzzing nightlife. Check out our faves below!  
Looking for something else? 
Want to host a dinner? see our suggestions below.
Maybe you have a wonderful new cafe or restaurant we haven't listed below? Tag @beachhousesofbyron on social and we'll come check it out!
Overlooking the golden sands and sparkling waters of Byron Bay's Main Beach is The Beach Hotel – a unique and iconic destination.
Perched atop the buzzing Byron streets and just meters back form legendary main beach, Balcony Bar & Oyster Co. evokes the easy going surf culture that Byron Bay is famous for. Headed up by award winning Executive Chef & Owner Sean Connolly, the menu boasts simple, honest, seasonal food from locally sourced and sustainable suppliers.
You can expect to see bivalve fans slurping freshly shucked oysters and tucking into creative share plates whilst enjoying signature cocktails and relaxing in the afternoon sun.
If casual, laid back dining is your style with great cocktails, wood fired pizza and all the ambience, Treehouse on Belongil might just be your new favourite. Located across the road from Belongil Beach, this is a locals fave to pop into after a day swimming and surfing at the beach.  
Open for breakfast, lunch and dinner, Treehouse on Belongil offers a fully licensed bar, is kid friendly, and if you keep them outside – your dogs can chill closeby too.
Thursday to Sunday nights enjoy live music from local bands and djs…have a pizza, sip a cocktail, wrap up with your favourite tipple, and enjoy some beats.
Inspired by Moroccan architecture and the Greek Islands, The Mez Club opened its doors in September 2016 and is renowned for its beautiful styling and feel-good vibe. 
The Mez Club was designed to offer locals and tourists alike a beautiful and feel-good meeting place which has a flexible menu, that works for both grazing and dining. The upstairs space known as The Souk has been designed specifically to care for parties and group events.
"our menu takes you on a journey around the Mediterranean Sea, from the noisy souks of Morocco, to the richness of the south of France, the fresh produce of Italy and the fresh seafood of Spain."
Back in 2017, three lads from Melbourne made it their mission to bring awesome modern Asian food, delicious cocktails and a 'jump out of your seat' party vibe to the heart of Byron bay; a place that was very dear to their hearts.
3 years later, and with two more light years venues up the east coast including Noosa and the recently opened Burleigh heads – their mission is most certainly complete. And then some.
With executive chef Robbie Oijvall (china diner) at the helm, the food is bold, colourful and full of punchy flavour.
Rounding out the full experience – the soundtrack is fun, the lights are dim, and the vibes are always high.
Located in the new Habitat community development, Barrio seamlessly materialises the Bay's ethos of effortless beauty, bringing people together with a modern industrial feel that complements our ethically focused food.

Dining at Barrio is like eating at home with your family and friends, good food cooked slowly with love to be enjoyed with beautiful wine.

Experience a taste of life at Barrio and enjoy the food, wine, culture and most importantly, the passion of the people.
Loft Byron Bay is styled luxuriously to frame sun-soaked views of famous Main Beach.
Our light filled spaces, centrally elevated above Jonson Street and Bay Lane, are perfect for relaxing with family and friends. 
Exhibiting a menu based around the abundance of local produce.
Come in for a coffee in sun, a sneaky lunch beer or warm yourself up at night around the woodfire pizza oven.
A sense of community can be truly felt at this home-style Greek taverna, Kouzina Byron Bay, tucked along Acacia Street in the industrial district. From the moment you step into this restaurant, you'll be transported to Summer on the Greek Islands. Offering takeaway by day and shared Greek feasting by night, Kouzina's menu changes daily to incorporate local and seasonal produce in dishes that are always fresh and exciting. Takeaway mezze bowls and platters such as oregano chicken, moussaka, dips and pita for lunch, while evening diners can delve into the likes of slow-cooked lamb shoulder with pearl barley and eggplant, or choose souvlaki from the grill of either chicken, calamari, pork or halloumi and mushroom. 
Head Chef Jason Saxby and his Dining Room team are delighted to welcome guests. Offering individual reservations, as well exclusive hire options for special occasions.
Enjoy a food and beverage offering which showcases all our region has to offer, curated with a Mediterranean influence.
Brand new farm-to-table restaurant has quietly launched in Byron Bay's hinterland. "Just 10 minutes from Bangalow in the Byron Bay Hinterland, Frida's Field offers contemporary country dining. Our food celebrates the seasons and our ecological farming practices."
Oma
The latest restaurant from the team at Three Blue Ducks. Oma offers a locally sourced, seasonal menu with a wine list boasting 50 natural wines. Just like the cyclone, big energy has gone into the creation of Oma, and it is now ready for the people in byron bay to enjoy. Oma offers an events package for anyone who may want to book a dinner, event, wedding, corporate or wedding after parties! See the events package details here!
The Hut Byron Bay is inspired by the Mediterranean and the pleasure of eating together.
Their menu celebrates the simplicity of traditional Mediterranean flavours through delightful dishes created to be shared.
Jessi Singh's Daughter in Law has arrived to Byron Bay's Fletcher Street and is serving up 'unauthentic Australian Indian' cuisine in a vibrant and playful ambience.
Chef Nick Stanton (of Melbourne's Leonardo's Pizza Palace, Leonard's House of Love and the now-closed Ramblr) is making the move from Victoria to New South Wales' northern rivers region. Ciao Mate, which looks set to combine his love for the Australian coast with his experience with Italian cooking.
Fleet has transformed into Roco Ramen and Sake Bar which will run for the months of June to September.
Lello's Pasta Bar is a family owned and operated Italian restaurant that specialises in home made pasta using organic flour and organic free range pastured eggs (gluten free available). Located in the small unspoilt coastal village of Brunswick Heads Park Street, Lello's Pasta Bar is the place where good food & family come together to create memories and have a great time